Refer the sale of 3 bras, get 1 FREE.
HOW IT WORKS
1.  You tell your friends and send them to the website www.behrbras.com
2.  They choose what they want and go to Checkout.
3.  In Checkout they choose "From A Real Human" in the "How'd you hear about us?" menu.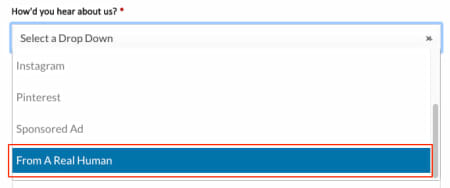 4.  Then in the "Referral Name" box, they enter your name.

5.  BOOM!  You got credit.  And for every 3 bras, (not 3 sales), you get 1 free.  Yep, FREE.  We'll reach out to you on Facebook or Instagram, so make sure you're following Behr Bras so we can find you!